What is a Condo Hotel?
A condo hotel is a building that is titled as a condominium but functions as a hotel.  The units are owned by individuals and are available for their use.  While the owner is not in residence, the unit is rented to short-term renters by a management company.  The revenue is then split between the hotel management company and the owner.  The revenue earned while not in residence helps pay for the costs of owning the residence. They are typically high-rises in vacation areas or major cities.
Top 2023 Locations Available for Purchase
Orlando, FL Resort and Spa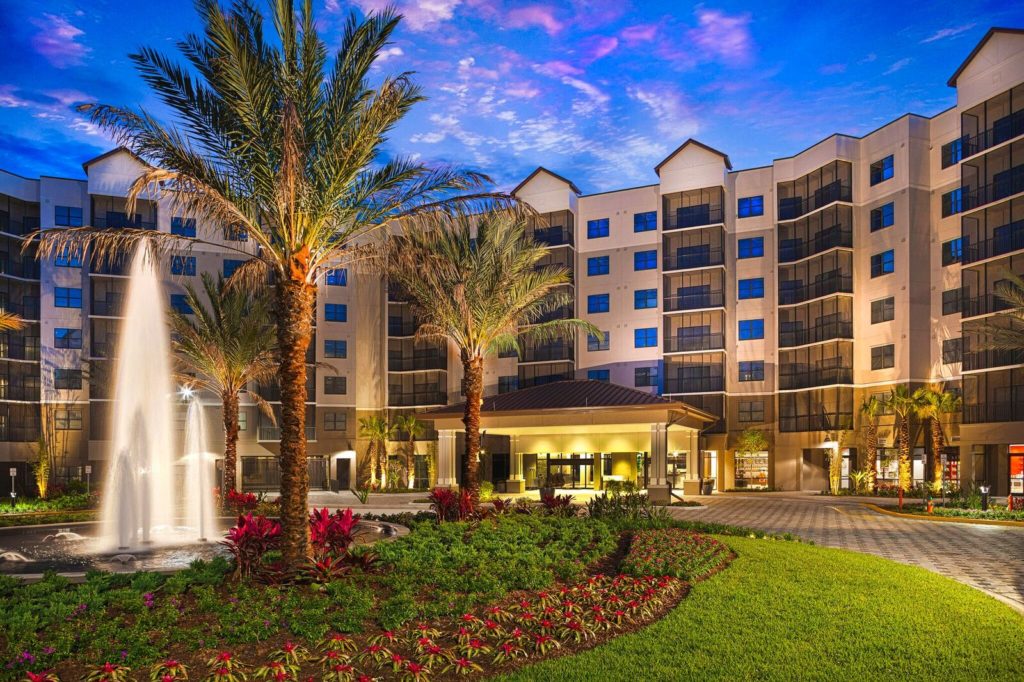 Orlando's newest ownership opportunity opened in 2018.  Low cost for a full-ownership vacation home with rental rates that top $200 per night!
More information on Orlando Ownership.
W Residences Ft. Lauderdale
The W Residences is a luxurious offering managed by Marriott.    Starting prices of $900,000 USD.   2 Bedroom, ocean views.
YotelPad Miami
A new small living concept, the units at YotelPad will be 400-700 sq ft.   Great for corporations and those looking to own a residence in downtown Miami as the residence will be rented out while not in use.
Who Condo Hotels Are For
Snowbirds – Condo Hotels are ideal for Canada and Northeastern U.S. retirees looking to escape the cold winters and live in Florida, Arizona, Hawaii or California from December to March. Ownership guarantees a professionally managed residence that can generate income during the spring and summer months.   No maintenance, professional amenities, and a guaranteed residence to stay in each year (with no rent) makes condo hotels ideal for this type of owner.
Extended Family/ Shared Ownership – A condo hotel is perfect for large families or groups of friends that wish to purchase a vacation home together.   Shared owners then have the flexibility of anyone using the condo at any time for a vacation.    Since there is no maintenance, none of the family members need to worry about who will be taking care of repairs.  This type of ownership is especially popular with condo hotels in the Orlando, Florida area where the resorts have pools, water parks, and great amenities for children.
Work-At-Home, Travelling Couples – A condo hotel gives digital nomads the benefit of extended stays.    With the flexibility of working at home, couples can stay in a variety of residences around the world at different times of the year.    With the affordability of a condo hotel as opposed to a vacation home, these couples can own units around the world.
Corporate Retreats – A condo hotel is a tax benefit to corporations looking to provide a perk to employees.  With no restrictions on scheduling, weeks are always available for free employee vacations.   The remainder of the time when not in use, the condo hotel is in a rental program generating revenue to offset the costs of ownership.
Financial Analysis of Condo Hotel Ownership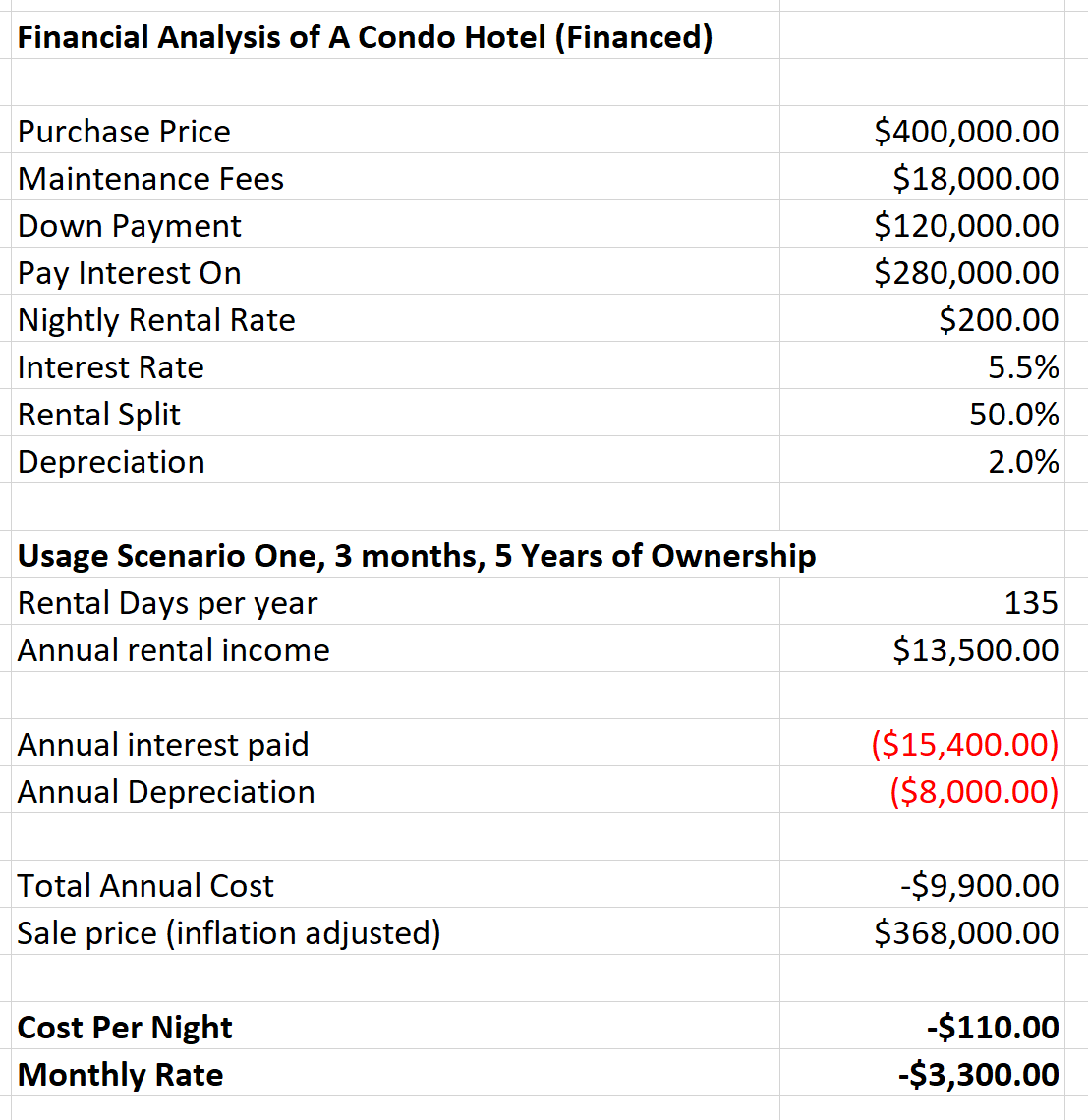 The financial analysis above assumes a three month usage time and slight depreciation on the condo hotel as it ages.  This is typical for a condo hotel. However, a strong real estate market can offset depreciation.   It is important to remember all condominiums are depreciating structures and the effect of appreciation or depreciation on the final numbers are unknown.
With a total cost of $3,300 per month of usage for the owner, the results may not seem fantastic, but in actuality, they are quite good.    A comparable condominium would cost $5,000/month for the owner to rent elsewhere and would have fewer amenities, no resort services, and no guaranteed availability.  Plus, the condo hotel unit is brand new, furnished with high-quality interior design, and customer service and concierge services are impeccable.   Owners of the unit have a true vacation home they can visit anytime with 5-star resort amenities included.
Long-term rentals on VRBO.com and Airbnb can end up being hit-and-miss and are often hard to book.    The convenience and cost savings to owning a condo-hotel for long-term stays is excellent.