Homes for Sale in Palm Springs
Luxury homes for Sale in the Coachella Valley are in high demand. Palm Springs and the surrounding desert communities are known for their world-class resorts, golf courses, restaurants, nightlife and shopping districts.
Life in greater Palm Springs moves at a slower, more deliberate pace. People are less stressed and healthier because they have the time to enjoy themselves instead of constantly working to survive.
The affordable lifestyle and beautiful weather of the Colorado desert make it a perfect place to live or visit year-round. The unique combination of world-class golfing, hiking, biking, hunting and fishing can't be found anywhere else.
Excellent schools, low crime rates and breezy commutes will continue to make this mountain resort and oasis a great alternative to city life. If you're interested in leaving behind the stress and congestion of city life, you'll come to understand why Palm Springs has been the treasured getaway for many famous actors and former U.S. Presidents.
The City of Palm Springs has a number of initiatives underway that continue to make it an attractive destination for those seeking refuge from the cold weather elsewhere. Strong incentives for green wind power and solar energy development, and a focus on small town "walkability" are all part of the effort to ensure long-term sustainability.
Traditionally, executives and entrepreneurs escaping the harsh winters of New York, Chicago and Boston and seeking a more temperate climate flock to vacation in Palm Springs each winter. Las Vegas is nearby and easy access to Los Angeles, Hollywood, Beverly Hills and other California destinations is a huge plus.
But now sophisticated investors are also flocking to the area, buying properties to either live in or rent out to vacationers.
Demand for luxury real estate is on the rise, and supply is limited in Palm Springs. Single-family homes – mansion, villa or condo – typically feature hot tubs, swimming pool and plenty of square footage to make every day feel like vacation.
The year-round sunshine and mountain views make it an attractive place to vacation, but it's also a great location for long-term investment as property values continue to rise. Low interest rates and high local employment rates have positioned the real estate market in Palm Springs for a strong future.
Maybe you'd enjoy a vibrant luxury home for family fun and relaxation. Fractional ownership is a fantastic way to enjoy the house of your dreams… without the burden of care and maintenance!
Or maybe you just want to live somewhere that feels like summer every day of the year. Temperatures average 72 degrees from November through April, and rarely dip below 40 degrees during those months!
The greater Palm Springs area is the ideal location to mix work and play. With more than 120 golf courses in the area, business in the morning and 18 holes in the afternoon is a great recipe for growth and relaxation.
Finally, you might consider asking a Palm Springs area real estate agent for help finding one of Riverside County's beautiful mid century modern luxury homes. Renters pay handsomely for mid century architecture luxury and those homes thrive as vacation rental properties.
If you are looking to find a resort wintertime city with a luxury home or luxury fractional home, start your search now.
Palm Springs Homes Fractional Ownership
Why buy a second home when you can share ownership? For those who want to stay for extended periods to enjoy the desert beauty of Palm Springs, fractional ownership of properties is an attractive idea. Rather than owning a vacation home used only for a few weeks per year, a fractional ownership share gives you access when you want, but frees you from the burdens of care and maintenance.
** Our featured property in Palm Springs is the "PGA West Residence Club".   We've visited and reviewed this resort and you can read our PGA West Residence Club review here. **
The advantages of fractional ownership in Palm Springs gives you access to key areas, including Rancho Mirage, La Quinta, and Palm Desert. And you will find there's more to the Valley than golf. Each city has other close attractions.
$111,500 per share - Fractional Home
This large home, owned by Destination-M members, has a central courtyard with heated pool. Two master suites have views of the valley and mountain…
More Details
$111,500 per share - Fractional Home
This private residence in La Quinta is a perfect vacation spot in winter and spring with near-perfect weather, golf courses, and numerous amenities in the PGA…
More Details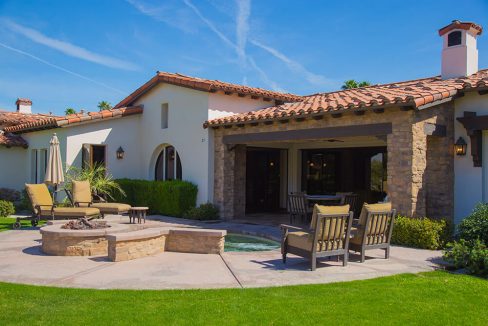 $154,000 and up - Fractional Home
Beautiful and secluded vistas and views, yet close to anything you desire. The Residence Club PGA West in La Quinta, California can provide you with…
More Details
Your options extend beyond the city, too. Exciting opportunities are plentiful in Cathedral City, Indian Wells, La Quinta, Palm Desert, and Rancho Mirage
Either way, the savvy real estate investor expects huge dividends over time. A qualified realtor can help you navigate the prospective properties and find a home that fits your need like a glove.
Top-notch health care, a wealth of history and culture to explore, and the ability to hit the golf course 365 days a year make the entire area an opportunity for all ages. For all ages!
Infrastructure is a big focus in the Coachella valley. This is especially convenient for busy executives.
The Palm Springs International Airport combines state-of-the-art transportation with the convenience and hospitality of a small-town airport. And Amtrak's Thruway Motorcoach provides fast transit to Pasadena, Bakersfield and Riverside.
Area attractions include:
Palm Springs Aerial Tramway – this rotating aerial tramway is the largest in the world. Climb from the Coachella Valley to the magnificent San Jacinto Mountains with views so breathtaking you'll never forget them.
Palm Springs Stadium – Home to professional and semi-professional baseball teams, this famous ballpark has served as the spring training site for several Major League Baseball franchises.
(Coming Soon) Palm Springs was recently awarded a franchise for a new expansion team that will play in the American Hockey League. Scheduled to open in 2022, the new team will play its games at nearby Palm Desert.
The Humana Challenge (formerly Bob Hope Chrysler Classic) is a centerpiece golf tournament on the PGA Tour. Other tournaments, such as the Canadian Tour's Desert Dunes Classic and the LPGA's ANA Inspiration, offer plenty of excitement for golf lovers in the area.
Other cultural gems include the Palm Springs Art Museum, Rancho Mirage's Children's Discovery Museum of the Desert and the Native American Agua Caliente Cultural Museum.
The famous Joshua Tree National Park and Living Desert Zoo and Gardens offer wonderful outings that the whole family will enjoy!
In short, the Palm Springs region lives up to its reputation as an epicenter for luxury and leisure. You should start looking into the possibilities today!